Blog Posts
Here are links to posts on my Math Education Blog that you might find interesting.
If you are so moved, you may comment on the posts, and/or subscribe to the blog.
Commitments
A central challenge for all of us is the tension between our commitment to mathematics, on the one hand, and our commitment to our students on the other. I wrote about it in 2013, and more generally about the concept of embracing opposites in 2015. But there is a third commitment which interferes with both of these: a disproportionate emphasis on enforcing student compliance. Read about it here.
The California Math Framework Revision
California is rethinking its K-12 math program. The goal of the revision is to reduce learning gaps, including by de-tracking secondary school classes. I support this, but I worry that implementation is not going to be easy, and I fear that a possible backlash may drastically set us back, as happened after the 1992 Framework was adopted. Read about this here.
Big-Picture Planning
In my role as math department chair I could not limit myself to planning individual lessons. I learned early on that effective lesson plans depend largely on well-thought-out plans for units, courses, and in fact the whole high school math program. In the past few years, I wrote a number of blog posts about the need to zoom out and see the big picture. I recently concatenated and edited some of those posts into an article on my website: Big-Picture Plannning.
---
MathEducation.page
New and newish on my website.
Sequences and Series, Formulas
A recurrent question in teaching secondary school math is about the pedagogical use and misuse of formulas. One approach is to teach a formula, and have the students practice using it. Another is to minimize memorization without understanding by encouraging students to rethink each problem from first principles. In a new 10-minute video about Sequences and Series, I articulate a middle course: formulas should encapsulate understanding, not substitute for it.
Games
Functions
Geometry of the Parabola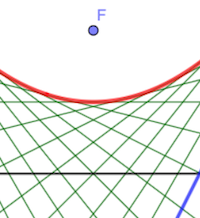 Symmetry
Popular Pages